RAMÓN CASTAÑER SEGURA
This web site is dedicated to the artist Ramón Castañer Segura. Ramón's paintings has a special meaning for me because Ramón is my father.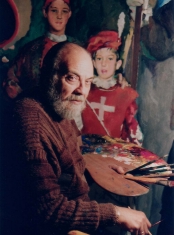 Ramón Castañer was born in Alcoy in 1929. During his last 40 years he was living in Madrid, but as very good person born in Alcoy, he has always remained closely connect to his region, and this is reflected in the characteristic light and colour of his work, as with all mediterranean painters.
Ramón started to draw at the same time as he learned to speak. He has been drawing ever since. Even today we have some pictures painted by him when he was only a 15 years boy, like this example "Canción Triste" (150 x 150 cm). This painting has been in a private collection in Barcelona since 1947.
Although I am his son I've never been able to paint but over the years I've learned to appreciate the quality of a good painting. However, it is not necessary to be a great specialist to appreciate the quality of these paintings, because when one looks at the paintings by Ramón Castañer as a young artist, everybody immediately realises that he already had a great artistic potential.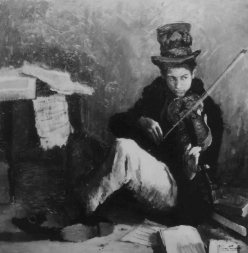 Ramón Castañer completed his academic studies and was able to improve his innate gift, acquiring more skills. In 1948, he enrolles at the Royal Academy of Fine Arts of San Carlos in Valencia where, in 1953, he became Professor of Drawing and received a Degree Fine Arts. This work is an example of that time "Jazmina " (170 x 80 cm)
Since then, he has devoted a whole lifetime to painting and naturally has acquired an extensive curriculum: Curriculum and Exhibitions
Over the years, Ramón's work has undergone many changes, research, evolution and ultimately it has madurated. He lived some time in Paris for some time, but did not immediately assimilate its influence. It was not until he had gone through a series of hesitations and regressions that he converted to a more advanced abstract art. "Juana en la hoguera", "Ángel Presentido" (Santander Fine Arts Museum). In the image, a sample "Abstraction" (100 x 81 cm) 1961.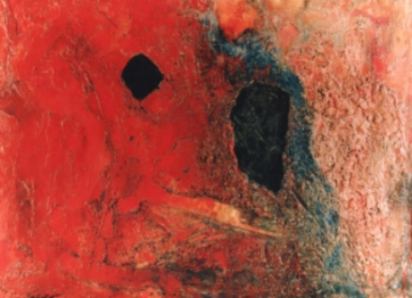 Based on this formula, Castañer started automatic painting, getting away from the facilities offered by figuratism.
He started on a new adventure experience and with "New Figuration" he opened up a new field, a new texture, looking at the problems of composition in large spaces. His work, "La Mina" (200 x 145 cm) sums up this mode of expression (First Prize at the IX Salón de Otoño del Ateneo de Valencia).
Castañer's realist spirit and love for concrete concepts, meant his focus turned towards the details of the objects and the nature. His realism is warm, and is loaded with a poetry that envelops the viewer. He is a painter of everyday objects, antique, rural utensils, medicinal herbs ... In this context, the painter has found his definitive point.
The picture "You are beautiful as the stone, oh live, oh live!, you are happy as the ship" is an example of his tree trunk series, like dried bones that twist showing their multilinear barks.
These six oil paintings show us how lovingly he began to recreate a world of familiar objects... A whole world of nostalgia for childhood experiences, of love for the everyday, 'azorinianos primores' as defined by Lopez Anglada in a superb article in 'La Estafeta Literiatia' "Cestón" (200 x 140 cm) 1987.
Ramón has a vital and energetic character, and therefore he has always preferred the paintings on a large scale. So much so that one of his major contributions to the art consists in painting large murals in several churches: "Murals"